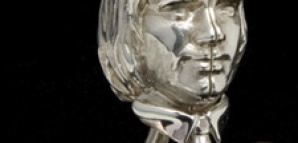 You've always prided yourself on your personal style, but it can always get more personal.

For a start, your perfectly acceptable but hardly eye-catching cufflinks could stand to look a lot more...you.

The brainchild of ElevenForty Design, Portrait Cufflinks will let you do just that, casting your worthy mug—or the punim of your choosing—in gold, silver, white gold or platinum. Just send in a few headshots, choose the precious metal that best captures your winning personality and wait a few weeks for the trinket to arrive at your doorstep, showing your co-workers how truly passé their simple monograms have become. And if you're feeling uninspired (or don't photograph well), Eleven Forty has a library of over 70 famous heads, including James Brown, Alan Greenspan and Lucifer—a perfect compliment to your devil-may-care attitude—in stock and available to tame your shirtsleeves.  Other suggestions include your dog, your spouse or Eliot Spitzer. Just because.

Of course, you aren't always French-cuffed, and when they're not in use, these beauties snap together to form a miniature bust of your object of cuff-based desire, ripe for display on your desk.

After all, anyone can act like Spitzer, but it takes an extra bit of panache to wear him on your wrist.