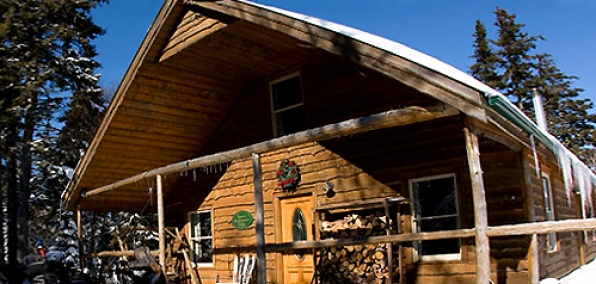 Today, we're taking a look one month into your future.

There's snow on the ground. You're in an ambulance. And you're on a mountain.

But don't panic: it's okay. You're just heading to dinner. In West Virginia.

But there is a liability waiver involved...

Welcome to Adventure Dining at Snowshoe's Backcountry Hut, a perilous journey into snowy mountains all for the noble purpose of eating and drinking, now taking reservations for the winter season beginning December 17.

This is not a dinner for the timid. First, you and your date will arrive in Snowshoe Village. Then, you'll await that 1950s ambulance, outfitted with bench seats and rope loops to hold on to, before it ferries you along a few harrowing trails into the backcountry. (Snowshoeing yourself out is not recommended.)

You'll come to a tiny log cabin decorated with vintage alpine gear—basically, Arnold's mountain retreat in Commando, but, you know, classier. You'll get to know your dozen or so dining companions while your hutmaster prepares a four-course feast (think almond-crusted trout and New York strip) with beer and wine.

If you're staying the night, you'll want the full-bar upgrade. The cabin sleeps eight, and can be rented for your entire group, including dinner and breakfast.

Or one couple that likes a lot of different beds.