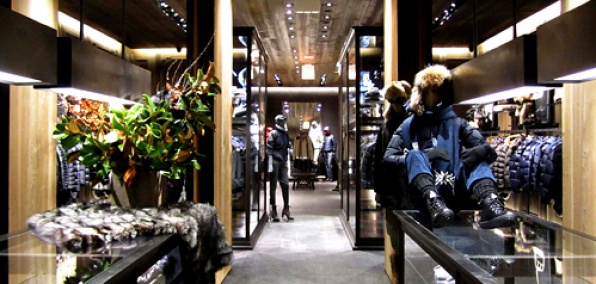 Indian summer.

Yes, you're enjoying it. No, you're not fooled by it. You know what's coming.

So you've been quietly preparing. Plotting, you could say. Tickets have been purchased. Skis have been waxed. Hot tub-locator app downloaded. The only thing left: the warmth of a big puffy jacket.

Introducing Moncler, the first Chicago store entirely devoted to ensuring that you have quick access to classic, sturdy, warm and, most importantly, Alps-appropriate outerwear, now open in the Gold Coast.

You know Moncler—born in France, now made in Italy—a vintage brand from the time when Sun Valley was just a twinkle in some land developer's eye, and the French Alps were the center of the après-ski scene.

The new Oak Street shop captures that feel. A dark, snug cabin, so small you could walk right by it—it's like a secret retreat where bearskin rugs are gently warmed by crackling fireplaces... but bring your own rug and fireplace, because this place is mostly coats.

Say you're looking for something that can go from Friday at the office to Saturday in a helicopter above a Black Diamond of your choosing. You'll want Moncler V, a homage to the kind of jacket James Bond would wear while intruding into mountainside lairs. There are other things you find useful, of course: fur-lined hats, sturdy snow boots, gloves.

And the upper hand on winter.