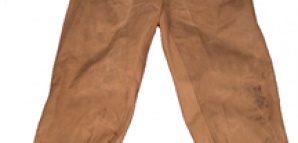 With British style enjoying a full revival—and fabric sourcing still the best-kept secret of most designers—it may be time to turn your attention to something with a little more history. And we don't just mean last season's Thom Browne...

These Stabo Bivvy Trousers started life as tents for Tommies in WWII, before Ed Benn and Ros Hathorn found them in a military surplus warehouse and decided they'd be better suited to menswear. They tailored them into a relaxed fit that looks familiar, but special touches like the grommeted back pockets and thoroughly broken-in fabric let you know you're wearing a bit of history. Each pair has marks, flaws, and patched holes that give it a character that only comes with age. Plus, the canvas is so solid, it'll last you through as many beach landings as you care to attempt.

Because of the shape of the bivouacs, the pants come with extra long legs that Ed and Ros recommend rolling up for a relaxed, beach-walker look, but they'll shorten the legs to accommodate the stumpy. The pants are limited edition so they may not have every color in your size, but the longer you wait, the harder it'll be to find the right one.

After all, tents don't grow on trees.