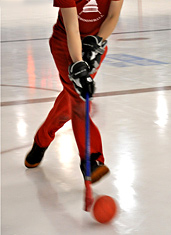 You were cut by the Redskins. The Caps couldn't squeeze you under the salary cap. You told the Wizards to trade Arenas or you walk.
So there's only one thing left to do: pick up a broom...
Enter
DC Broomball
, a winter league to scratch your obscure-sports itch during the chillier months, forming teams now.
Think of this as hockey, but without all that pesky skating. Instead: running and sliding. Don't worry—there are still goals, ice and referees who'll tell you that you just crossed the blue line a little early.
Your immediate goal: rounding up 10 to 15 guys and girls for eight weeks of on-ice competition at a regulation rink in Fort Washington, Maryland. You need bring only a helmet and some knee pads—they'll let you borrow some rubbery shoes (designed to give you traction on the glassy ice) and a special broom with a small, triangular plastic head. (Though feel free to BYOB.)
And if the regular Wednesday nights don't quite quench your winter-sports thirst (to say nothing of your thirst for post-game pitchers at the dive bar down the street), the league also offers occasional pickup games at Kettler Capitals Iceplex in Arlington, where the Caps run their practices.
You've always wondered how Ovie handles a broom.