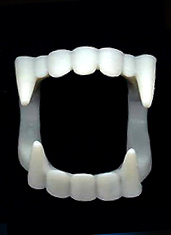 There's something in the air.
A whisper. A chill. A sense of foreboding. A plaintive midnight howl.
Also: literally tons of candy corn. Halloween season hath begun.
To help you make the most of it:
Jason Kain's Workshops at Horrorbles
, the best way to make sure your Bela Lugosi/Robert Pattinson/Leslie Nielsen vampire costume holds its own against the original.
So, first things first—Jason Kain's a sort of master of makeup for indie-horror flicks—he oversees the makeup at Addison's haunted house, Disturbia, and studied under the eye-and-teeth specialist for movies like
Kill Bill Vol. 2
and
Van Helsing
. (It's like Harvard for makeup artists.)
At his four-week custom prop-making workshop, you'll meet twice a week to create your own realistic gore-infested body limbs, overseeing everything from the initial cast to placement of individual hair, helping to give your zombie pub crawl that much-needed touch of authenticity.
Or, for the simpler route, meet this Saturday for the custom fang-making. There, Kain will take a mold of your mouth using the same material that your dentist uses to make a crown. He'll use the cast to create realistic-looking, durable acrylic fangs that fit perfectly over your own incisors.
An apple-bobbing victory is virtually guaranteed.