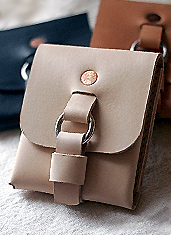 Today we'd like to talk about your pants.
And in particular, what you'll put in them.
Preferably something that's been caressed. Cared for. Labored over intensively.
You know, like a handmade wallet from some guy in
Massachusetts.
Introducing
Corter Leather
, a line of leather goods made by a man working out of his apartment bedroom, available online now.
Your new wallet guy is Eric Heins, a Bay Stater who has dedicated his life to assembling scraps of vegetable-tanned leather. His lineup: small and detailed wallets, card holders, belts and laptop cases. (You can ask, but we don't think he'll make you that leather wetsuit.)
To get the money-carrying ball rolling, you'll place your order online. Then, by candlelight (we're assuming), Eric will punch, sew, oil and dye your leather until it's a perfectly pristine tan or black. Once your wallet arrives, look it over—notice the inlay made from a pre-washed feed bag from the '30s. The snap made from a handmade coin concho. And the inside, with enough space to hold a dozen credit cards...
Just don't go full Costanza on us.