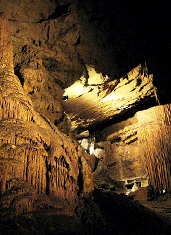 There are those times when you want to get away from it all. The 8:30am conference calls. The broken Metro escalators. The Senate candidates who may or may not have been witches.
Then there are those other times, when you want to get away from the rest of it. Like the sun.
Which brings us to
Cave Expeditions at Organ Cave
in West Virginia, now open for all your spelunking adventure needs.
Now, we know what you're thinking: a touristy jaunt next to a Boy Scout troop along an easy path. Well, you're almost right: you can do that here, but we recommend going a little deeper. Literally. Into those dark places they warned you about in
Lord of the Rings
, only with less armor, better headlamps and more granola bars.
You'll meet your guide, grab a helmet, knee pads and gloves, and set off on one of 12 routes along the system's 45 miles of caverns, where you'll wriggle through tight passages, amble up boulders and rinse off the mud beneath an underground waterfall.
Most routes last no more than four hours, but if you really dig the dark, you can opt for an all-day trip or
The Undernighter
, a sleeping bag-required excursion that has you entering the cave at 5pm and coming out at 11am the next day.
By which time, you'll have a pet bat.