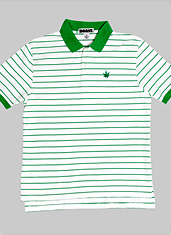 Today, we'd like to talk about your backhand.  
More specifically, what you're wearing while you execute it with all the grace and dignity of early '80s McEnroe.  
Which brings us to
Boast
, a newly revived line of vintage-looking, tennis- and squash-ready polos and gear, available online later today.  
Now, the first thing you should know is that you've probably seen this stuff before. The line first launched back in the '70s, when the designer—a tennis pro in Greenwich, Connecticut—was inspired by the iconic tennis legends of his time. (Connors's serve. Borg's headband. Richie Tenenbaum's joie de vivre...) You could have gotten his wares at a handful of pro shops—or, if you caught him by the side of the road, out of his station wagon—but otherwise, you were out of luck.  
But now, that's all changed. You can get the shirts on the Internet, and you'll notice that the fit's a little more modern—the better for nailing a serve, even if the only lawn sports you play involve holding a Bloody Mary in your hand while striking a croquet mallet. But on the chest, you'll find the very same logo: a Japanese maple leaf, which in no way resembles any other plant that we can think of, certainly not one that McEnroe himself would have indulged in during the '80s.  
It was a different time for performance enhancers.