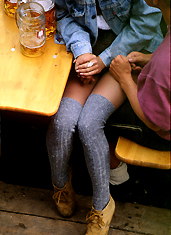 In any normal year, you'd be en route to Bavaria right about now, reveling in the start of Oktoberfest. But this isn't just any year. You've got polling data to crunch, statements to parse, pivotal elections to win.
That said, you've still got beer to drink.
Which brings us to the
H Street Festival
, throwing down its beer-soaked gauntlet tomorrow to bring you a bit of Germany, combined with a little American flair. And all the rollergirls, boxing and pie that that entails.
Your first stop, naturally, is the
Biergarten Haus
, where you'll commandeer one of their huge outdoor picnic tables (or perhaps a stand-up barrel) to start sampling their 11 additional Oktoberfest drafts.
Then it's time to take to the sidewalks, where you can sample fare from the yet-to-open Smith Commons (Angus burgers and tiger prawns) and Toki Underground (whole pigs and Taiwanese shaved ice). Or if you're feeling competitive, try your hand at speed chess, step into the boxing ring or tussle with the DC Rollergirls.
After that, something a little lower-impact may be in order. For that, we point you to the stages, where you can see bands like the Funk Ark and H.R. from Bad Brains, along with a hands-behind-the-back blueberry pie eating contest and, of course, a tattoo contest.
Okay, so maybe not
that
low-impact.