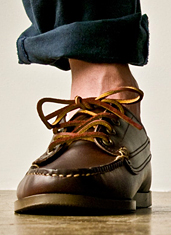 You've always thought there was something right about an apprentice working at the side of a master, learning his craft, growing his passion and one day having the skill to strike out on his own.
And hence, your undying love of movies about sword making. But anyway.
Introducing:
Oak Street Bootmakers
, a new line of smart-looking footwear straight from a Windy City father/son master/apprentice shoemaking team, available now.
Here's what you need to know: they're the brainchild of a cobbler who has been working with shoes since he was 10 years old. He worked alongside his father, who was a cobbler, and his father's father... well, he liked a good peach cobbler. The result: the kind of supple, low-cut shoes that insist—if not beg—you wear them without socks. The secret ingredient: Horween Chromexcel, a local Chicago leather that has been made the same way since the last time the Cubs won a World Series. Which basically frees you to spill champagne all over them this weekend.
And naturally, you're going to smell these shoes and think to yourself, "How can I smell like that?" Well, we've got good news: we can safely report that a cologne that smells like new shoe and baseball mitt is currently being tested in Oak Street's lab.
Note: lab might actually be a shoe store.