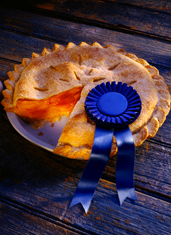 So here you are, on this penultimate weekend of the summer, eschewing Martha's Vineyard for more localized pleasures.
A state fair, for instance. Now, let's be clear: we're not talking about some trip to far-flung Fauquier County to marvel at freakishly large vegetables and cows made from butter. We're talking about a quick jaunt up Meridian Hill.
We're talking about the first-ever
DC State Fair
, debuting tomorrow as part of Columbia Heights Day, bringing you eating contests, beer and, okay, some jumbo produce.
Herewith, your guide to a day at the fair:
Things get started around 11:30am, when winners are announced in all kinds of state fair categories, like best pickles, best pie, funniest-looking vegetable and best home brew. Yes, audience participation is encouraged.
Next up: you'll want to make your way over to the bocce court that DC Bocce has set up, loudly proclaim "I've got next," and take on all comers. The field is astroturf, so you won't be the victim of bad bounces.
Just make sure you finish your last match before 3:30pm, because you've got another event to dominate: the cupcake-eating contest. (Hint: hit up the band for "Eye of the Tiger" when you make your entrance.)
By this time, you may find yourself in need of some liquid refreshment. So take your frosting-covered trophy out into the neighborhood, where you'll find drink specials aplenty all day, like $5 off carafes of sangria at Room 11 until 7pm, and $2 off drafts at Looking Glass Lounge from 5 to 8pm.
Which beats a cow made from butter every time.