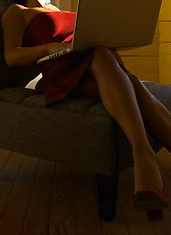 Like coffee, five-martini lunches and watercooler gossip on a Tuesday, listening to music at work is a necessity.
But the days of
Now That's What I Call Rock
and other amazingly brilliant pre-made CD compilations are as dead as your cell phone (may want to plug that in, btw).
That's why you may be interested in
Shuffler.fm
, the Pandora-meets-TRL website that pulls music from thousands of music blogs and sites, officially launching today.
Like with Pandora, you're in control of what melodious sounds will serve as the soundtrack to your working day with this. So let's say that argument you had with an underling calls for the kind of power riffs and soaring harmonies only found in the catalogues of Boston, Aerosmith or the J. Geils Band.
Simply pull up the site, choose "Classic Rock" as your category, and Shuffler lets you Bob Seger out at your desk by finding tracks from the blogs and websites it sources.
Oh, that's the other cool thing: since this isn't some faceless, pre-programmed database of MP3s here, but rather blogs created by living, breathing people, you'll be able to read what inspired the uploads, be it celebrating an engagement (Bowie's "Be My Wife") or just one man's love for rowdy Irish rock (Dropkick Murphys' "Shipping Up to Boston").
We recommend not reading what inspired the Morrissey uploads.