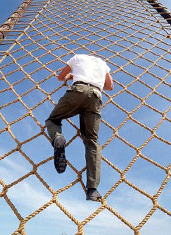 By the third date, there are things you want to know about someone. Favorite Beatle. Whether they can drive a stick shift. Their thoughts on the Commerce Clause.
Also: how they handle clinging to a cargo net two stories off the ground. And what they like to drink afterwards.
By way of explanation, let us introduce you to
The
Thrill & Chill at Terrapin Adventures
, in the appropriately named Savage, Maryland, adding some much-needed adrenaline to your next outdoor date.
This is like an
Indiana Jones
movie, only with fewer boulders. Oh, and a lot more beer at the end.
You'll arrive at a converted mill next to a river, where a guide will issue you a helmet and harness, and turn you loose amid the trees to test your fortitude on a 40-foot-high ropes course. You'll bravely scamper across rope bridges, boldly leap into the aforementioned cargo net and jump from platform to platform,
Super Mario
-style. Then it's on to a tower of climbing walls and rope ladders, and a giant swing overlooking the river, where you'll catch 2 G's on the way down. (This is why they put the beer at the end.)
Your fears thus conquered, you'll retire to the Rams Head Tavern two minutes away. There, you'll sit down for five courses of small plates, like fish tacos and beer-battered shrimp, each paired with a glass of wine or one of their tap beers.
Helmets not required for consumption.