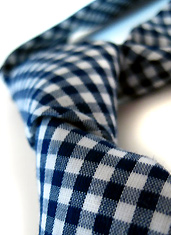 We took a peek at your closet recently (don't worry, the maid let us in), and we noticed that you could use another great-looking tie.
You know, one that's a bit skinny, that brings out your eyes—and that was designed in the back of a whipped cream factory in Long Island...
Thus, we present
Graham Withers
, producers of your next amazing handmade tie, now available.
It all began about two years ago, with two design buddies working diligently out of a Brooklyn apartment, armed only with a tie idea, some needles, a few fabrics (cotton, linen, wool, silk) and a neckwear dream. They started making each tie by hand, and every time they sold one, they'd get cracking on the next one.
Well, since then they've stepped up their game: they've moved their design HQ to the back of a whipped cream factory (naturally), and they've gone digital, meaning you can now order a tie online and it'll be shipped to you in a few days.
They've even knocked their prices down from $82 to $48 for the ties they currently have in stock. Our pick: the
Kyle
, a cotton-flannel hybrid perfect for a late-summer dinner at the girlfriend's parents' house.
No, you don't have to be named Kyle.