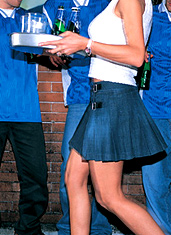 In the bygone days of DC, Ronald Reagan and Tip O'Neill used to hurl barbs at each other all day, only to bond over a stiff drink at night.
Which is the spirit you'll bring into your weeknights this fall... with some modifications. Like hurling red rubber balls at your opponents. Before sharing a pitcher of beer.
Presenting
ZogSportsDC
, a new co-ed sports league imported from NYC, ramping up now for an early September debut.
Think of it as one-stop shopping for your competitive needs: they'll supply the fields, refs, slightly unorthodox competition... and tightly organized après-game drinking. You'll supply ringers for either six-on-six weeknight dodgeball, or eight-on-eight touch football. Then, you'll have two decisions to make: a clever team name ("Rangel's Renters" is available) and how tough your competition will be—from "Players" (think Patches O'Houlihan) to "Extremely Casual" (you tried to dribble a dodgeball, but you're very interested in the bar specials).
So for six to eight weeks, you'll meet up for a weekly game, run up the score on your unsuspecting opponents and then repair to a nearby bar. If you come in first or second (or win the "Best Drinking Team" prize—based on league vote, so start campaigning now), winnings will go to your favorite charity (no, your Senate exploratory committee doesn't count).
Come winter, your options will expand to include indoor soccer, volleyball and three-on-three basketball.
We hear Tip O'Neill had a hell of a jump shot.