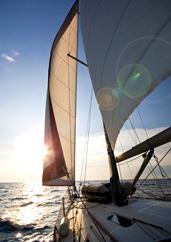 We know what's on your mind: cool water. And even cooler breezes.
Our humble suggestion: going to the Chesapeake, and commandeering the Naval Academy's favorite boat. No, we're not talking piracy. Not quite...
Presenting the
Offshore Sailing School at The Inn at Perry Cabin
, now turning you loose against wind and water during your stay on the Chesapeake (earth and fire will have to wait their turn).
You know Perry Cabin as your escape for spa-and-champagne weekends on the Eastern Shore. But now it's your spot to pull up anchor and unfurl canvas as you take a crash course in the esteemed art of sailing.
Your vessel: a 26-foot, $40,000 boat, which happens to be the same craft used to train cadets at the Naval Academy (but you'll get hazed less). Over an intensive three-day weekend course, or over a week full of half-days, you'll learn jibing, tacking, navigating, communication and all the knot-tying you'd ever need. The North Star may even be involved.
But study up, because on your last day, your instructor will send you and your fellow cadets out onto the bay unsupervised to see how much you've learned (and if you can find your way back). Once you've mastered the wind, you'll pull up to the inn's front lawn, where you can take up an Adirondack chair and an afternoon negroni.
On second thought, make it a Salty Dog.