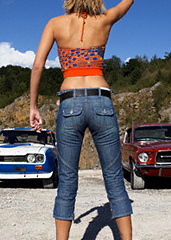 We've heard: your car is fast. (Unfortunately, the law has also heard, but that's another story.)
But now it's time to find out just how fast it is.
Which brings us to
Friday Night Test and Tune at Capitol Raceway
, turning you loose on an official quarter-mile drag strip.
It's basically a scene out of
American Graffiti
or
The Fast and the Furious
, only better regulated. (And you'll be more Harrison Ford than Vin Diesel.) You'll arrive at this vast expanse of asphalt, tucked into the woods of sleepy Crofton, Maryland, get a quick inspection (and a helmet) and line up. In front of you: maybe a vintage coupe airbrushed with flames and skulls. Behind you: maybe a suburban dad out to race the wife's minivan.
When your turn comes, you'll watch for the red light to turn green. Then you'll floor it for a few seconds of gloriously legal speeding. When you finally slow down, atop the hill in the distance, you'll loop back around to the tower, where they'll give you your reaction time off the line, your split times and your top speed. (That built-in parachute in your trunk finally comes in handy.)
Once you've gotten the speed out of your system, you'll want to break out that six-pack and take a spot in the grandstand, where you can watch souped-up muscle cars that can do 190 mph, and needle-nosed professional cars that cover the quarter-mile in seven seconds.
Only a little slower than you.