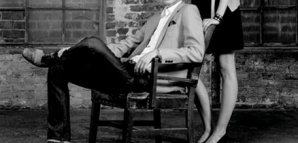 Breakups can be hard.
Especially when things seem to be going so well on the surface. But deep down, sometimes you know you're just not that into it.
Making a clean break from their popular, critically acclaimed upstart fashion line Trovata (
we've long been fans
), Sam Shipley and Jeff Halmos are putting themselves out there with the creatively monikered
Shipley & Halmos
, hitting stores this weekend.
Let's be clear about one thing: Shipley & Halmos is not Trovata 2.0. There are no crazy stories about down-on-their-luck blueblood families scrawled inside the blazers, no antique one-of-a-kind buttons and not nearly as much surf/prep preciousness. Instead, the brand is a bit more grown up, more focused on form and fit, and still extremely accessible.
The signature piece of the debut line is a trim fitting suit, but we're partial to their first ever pair of jeans (a raw, dark, dressy denim) and the just-above-the-knee shorts/bathing suit hybrid. There are also sweaters, pants, cardigans and typical men's finery. Filling out the line are boxer shorts made out of dress shirt material and a t-shirt that sits precariously in between crewneck and v-neck.
It just can't commit.