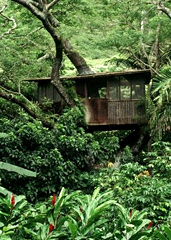 The dog days are upon us, and so it's time to make your escape. 
And on the off chance the Obamas forgot to invite you to Maine, we have the next best thing.
Yes, of course we're talking about climbing a tree in Maryland.
Welcome to
The Treehouse Camp at Maple Tree Campground
, an elevated sort of campground in the far western reaches of the Free State.
This is your chance to make like the Swiss Family Robinson, albeit with fewer moral lessons to absorb, and a good bit more grilled meat and beer. (Better showers too.)
After a long day of white-water rafting down the nearby Potomac, you'll lead your weary flotilla-mates six miles up the road to the 20-acre mountaintop site along the Appalachian Trail. You'll haul your sleeping bag up a seven-foot ladder and claim one of the bunks built around a tree trunk, then start a campfire and light the grill, while your mates forage for provisions. (Otherwise known as visiting the camp store for steaks and marshmallows.)
If your camping needs run to the more intimate, you'll want to stay in one of their treetop cottages—fully insulated private rooms, 10 feet up, with wood stoves and king mattresses.
Because you hate camping on a mere queen mattress.