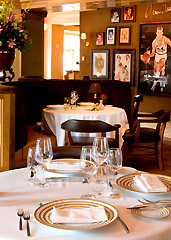 Today we're here to talk about gambling.
The kind of gambling you see in the movies. Where tuxedos coexist with jazz bands. Where you fold your cards, rake in your chips and retreat to your private... sushi counter.
We're talking, of course, about West Virginia.
Introducing
The Casino Club at The Greenbrier
, open now to add a bit of Old Vegas charm to a resort that already houses a Cold War-era bunker.
If the Rat Pack took a hunting trip, this is where they would have spent their nights (no one went camouflage to black-tie as fast as Dino).
You'll come down from your room (access is restricted to hotel guests and club members) looking every bit the part (jackets are required, but you always bring a spare).
When you first descend the red-carpet staircase to the casino floor, you'll want to fuel up for a long night of tough decisions. So head past the jazz band and the massive art deco fountain to the private sushi bar at the rear for a sashimi plate and a cold martini. From there, you'll take up a post at the craps table, at least until you can gather a quorum for some high-stakes Hold'em.
As for their older, smaller casino under the steakhouse, it's still there—and available for your next kingmaking fund-raiser.
Nothing makes kings like Hold'em and sashimi.