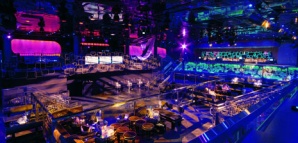 You've always looked at Vegas nightlife as something of a sport.

So it's reaffirming to find the brass at the Bellagio feels the same way. Its new nightspot, The Bank—soft-opened this week in the former Light space—gives the club experience a jolt of stadium intensity.

The genius of The Bank is in treating its dance floor the way Staples Center treats Kobe: placed on full display, with unobstructed sightlines for all. The Light dance floor has been shrunk down, encased in glass and lowered half a story, so now when you reside in one of the VIP booths that cradle the zone of rhythm, the feeling will be that of an owner in his luxury box, taking in the action below. (Of course, depending on your mood, you could also play scout, coach or color commentator...)

And while The Bank preserves very little from its Light days, it thankfully retains the services—and uniforms—of the former club's famously corseted bar staff. Only now the staff will be able to show you to a 500-bottle Cristal room, complete with a mirror trick that gives the impression you're gazing at an endless sea of bottles (and an endless sea of anything else in the room).

Ah, the majestic views of Vegas.