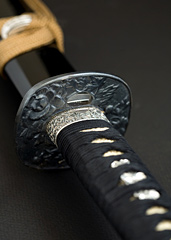 You're no stranger to secret societies, codes of honor, and ancient ways of doing things.
But there's one thing your underground organizations have always lacked: swords.
Until now...
Which is why we bring you
Kendo Classes at the Capital Area Budokai
, instructing you in the art of samurai-style swordsmanship, and accepting students now.
Run by a bunch of swordmasters, this Japanese-style dojo is the surest path to
Kill Bill
-style badassery. Over a four-week course, you'll learn basic stances, proper footwork with your bamboo sword, and traditional swordsman's manners (properly greeting your opponent before you fence him into submission, never swinging at a guy wearing glasses).
Once you master the basics, they'll suit you up in the traditional armor of a face mask and padding for your torso and wrists—think David Carradine on casual Friday—for some high-intensity sparring. Before long, you'll be singing your weapon to sleep at night.
And if you care to try your hand with real steel, there's a related dojo here that practices choreographed moves (and slicing up bamboo mats) with actual blades. Just be warned: no sparring allowed.
The school would run out of students that way.