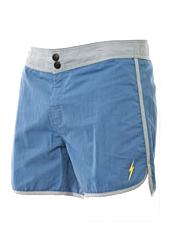 It's long been your first rule of swimming: suits optional.
But on those occasions where you're obliged (however temporarily) to lace up some trunks… well, you'll need something to wear.
Ideally the kind of suit Thomas Magnum might've worn to bust some bad guys.
Which brings us to
Lightning Bolt
, a new heritage line of swim trunks made by surfing royalty, available now.
Basically, it's as if the descendants of surfing legends noticed they still had material for trunks lying around from the '70s, and decided to turn them into (get this)… swimsuits. (The brand relaunched last year after a few years in the wilderness.) They used the same patterns the brand had during its heyday, just without that '70s smell.
So soon—this weekend, perhaps; over the Fourth of July, definitely—when you find yourself hitting the beach, you'll want to suit up with one of these. You'll have your choice of suitably '70s colors—maroons, Kansas City Royals-style powder blue—all cut to show just a little bit of thigh.
Also known as "The Selleck Cut."