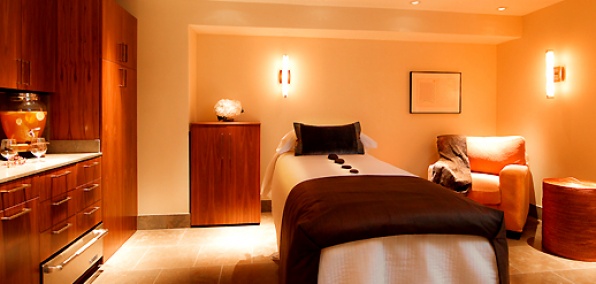 There are those relationships that you immediately want to shout about from the rooftops.

And then there are others. The kind that you'd prefer to remain a bit (okay, a lot) more discreet.

Yes, we speak, of course, about the relationship between you and the woman you've enlisted to rub you with hot stones... and remove some of your less-wanted hair.

Introducing The Spa Room at the Park Hyatt, here to minimize your contact with any nonessential persons as you submit to your well-deserved salt scrub, facial or deep-tissue massage.

You're already used to unwinding here over some chilled gin and a massive rib eye, but now your business is upstairs, in the hotel's private guest house. Exiting the elevator, you'll recognize the same luxe-farmhouse-meets-Japanese-pagoda look of the rest of the place. What you won't see: people.

You'll duck into the single, solitary treatment room to await your specialist (let's just call her Helga). She'll administer your Swedish Surrender Massage (not the first time you've surrendered to a Swede), which may well include a mint and eucalyptus sinus treatment (a step up from Vicks VapoRub).

And when you're properly massaged, facialed and exfoliated, the hotel builds in plenty of time on the back end for you to hang out in the aromatherapy shower and contemplate your privacy... and the gin downstairs.

Sometimes you have to unwind from your unwinding.