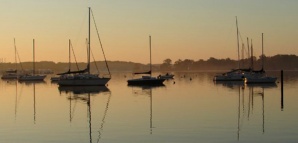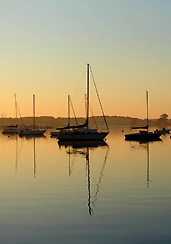 You've always been pretty comfortable on land. But there comes a time to leave your comfort zone. To learn how to thrive on the open water.
We're talking about taking a week, stowing away on a boat and sailing around the world. Or failing that, Chesapeake Bay.
Which brings us to
Liveaboard Cruises at Chesapeake Sailing School
, now putting you out on the water for two to seven days of glorious boating.
This falls somewhere between Sailing 101 (no experience required) and a camping trip on water. Your reservation secured, you'll want to gather six to eight sea dogs (or anyone else who doesn't mind referring to you as "Captain" for a long weekend) and make your way to Annapolis to meet your expert skipper, stock up on provisions (read: rib eyes and cabernet) and get to know your 44-foot vessel.
As you unfurl the canvas and set sail up the West River toward St. Michaels, you'll learn the finer points of wind-aided seamanship—tacking and jibing, navigating, right of way and repelling pirates with your flare gun. (Okay, maybe not that last one.) But it's not all edutainment: you'll have plenty of chances to swim or drop kayaks into the water to explore the Bay's various inlets. Oh, and pop a few cold ones at sunset.
We hear beer helps prevent scurvy.