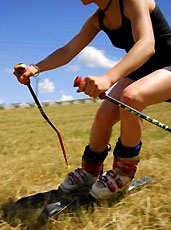 You know it as well as we do: the dog days are nearly upon us.
Which can mean one thing, and one thing only: it's time to go skiing. On a mountain. In Virginia.
Welcome to
Grass Skiing and Boarding at Bryce Resort
, opening for the season on June 15.
This is exactly what it sounds like: schussing down a grassy slope with specially designed skis strapped to your boots.
After a midmorning caravan out to the Shenandoah, you and your fellow summer Alpiners will meet up with your instructors for a crash course in the finer points of the sport, first invented by the French in the '60s—presumably between smoking cigarettes in cafés and ruminating on the meaninglessness of life.
Once you're accustomed to your skis or board (think of an oversize skateboard with tires), they'll turn you loose on the chairlift. Clad only in shorts, sunglasses, a helmet and a smile, you'll slalom down the closely cropped slopes—and remember, this is a 1,750-foot mountain—at speeds surprisingly close to those you've achieved on snow. (Here, your legend precedes you.)
Be warned, however: the lifts close by midafternoon, though that gives you plenty of time to retire to the slopeside lounge for slabs of prime rib and a few well-earned beers.
Your après-ski habits don't vary with the season.