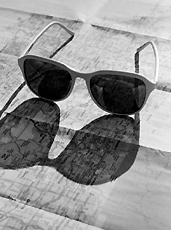 This time of year, you can't help but be inspired by our city's radiant beauty.
The endless blue skies. The waves crashing at the shore. The sea of soul-destroying brake lights on the 405.
Turns out that last one's the most inspiring of all—take a look at
Freeway Eyewear
, a new line of shades inspired by (and named after) our city's freeways, now available at Maxfield.
Think of these shades as a way to finally pay tribute to those special passageways where you spend a large percentage of your waking hours. If you're headed to the beach, pick up the 1s. (Route 1 is the PCH, but you knew that.) The retro shape will finally complete that Aristotle Onassis-by-the-shore look you've been after.
For your dreaded morning commute, the 405s embody a bit of San Diego punk...and a bit of Brentwood yuppie (just like the beast of a highway). If you'll be spending most of tomorrow inching along the 10 (our sympathies in advance), the 10s on your face will convey a bit of Downtown edge to whomever might be idling in the next lane.
And when you just can't take it anymore, time to hit the road for Vegas—with your new 15s, which will get you there in throwback Rat Pack style.
Along with some UV protection.