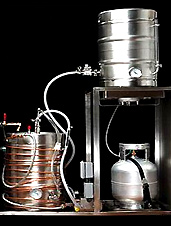 Today, we have a bit of intel.
It concerns your future.
More importantly, it concerns what you'll be drinking in the future.
Oh, and just so you know, the future starts Monday...
Introducing
Monday Night Brewing
, a little speakeasy and microbrewery start-up on the West Side, now perfecting their soon-to-be-distributed craft ales with your gracious assistance on Monday nights.
Think of it as
Fight Club
for beer, just without Ed Norton, Brad Pitt or any notion of physical violence. After three years of testing, tinkering and raucous consumption by the trio behind MNB, their first offerings are almost ready for the masses. Almost. And here's where you come in.
First, you'll need to fire off an encrypted email requesting the exact coordinates of the brewing location (or you can just say you're thirsty and ask for the address). You'll arrive at a covert hideaway where canopies of homegrown hops replace oak trees and heavily manned brewing equipment hums where a minivan should be—okay, it's the CEO's garage.
But it happens to be the perfect backdrop for the kind of beer-rich gathering you can appreciate. Walk up and pour yourself a gratis
Eye Patch IPA
or a smoky-sweet
Drafty Kilt Scotch Ale
from the tap, and then repeat. All they ask in return is your opinion on their suds as you watch them brew a new batch just a few feet away.
Think of it as the bigger, stronger, faster Monday.