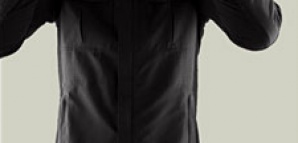 It's just about time for your yearly quest for a jacket that affords you the warmth you need and the dignity—or at least un puffiness—you deserve.

Consider a new player in the outerwear game, Nau's tough yet refined coats, sweaters and hoodies.

Using rip stop, moisture-wicking merino wools, goosedown, waterproof zippers and a number of other intense-sounding weather-resistant touches, Nau has managed to create a line of outerwear that does a great job of hiding its functionality (and you) behind tailored finishes and slender profiles. The comfortable, sturdy gear works both in the city—like the Merchant Coat, a modern take on the classic peacoat—and in the wilderness (look for the matte finished Blazing Jacket).

Beyond jackets, sweaters and other basics combine the classic look of fishermen's gear with the modern edge of Nom de Guerre, so you'll have something to wear on those trips to the docks.

To make you feel even better about your purchase (and coincidentally help the environment), Nau uses sustainable production, progressive labor and a minimal retail presence.

So you can have your sustainability and eat it too.