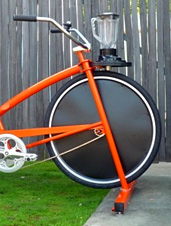 In an ideal world, everywhere you went, a freshly blended, ice-cold margarita would be waiting for you.
Impossible, you say?
Well, starting this Cinco de Mayo, this crazy future dream becomes a reality. Introducing the bike accessory to end all bike accessories: the
Fender Blender Universale
, available now to fill your vast mobile, outdoor margarita quotas.
If you've always desired to be the Pied Piper of Cinco de Mayo, your flute has arrived. And it has arrived in the form of a blender contraption that straps onto your back wheel and harnesses the power of your pedaling, effortlessly spinning your margaritas (or piña coladas, or daiquiris) on the go.
And the possibilities stretch beyond your Golden Gate Park Cinco de Mayo soiree: think of this as your mobile bar for the summer slate of tailgating at AT&T Park, the occasional pool party and a sunny Sunday in Dolores Park—all potentially culminating in deity status in the desert at Burning Man.
You should also know that the blender pitcher is shatterproof, and clips and unclips for instantaneous margarita satisfaction wherever you may be.
As far as the pedaling goes, remember: no pain, no gain.