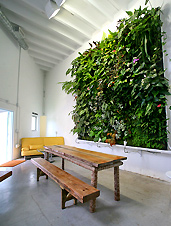 Two ways to impress people:
1. Have a winning personality that never has an off night.
2. Hold a dinner party in a downtown loft with an indoor rainforest.
Introducing your new venue for option 2:
Miami River Wall
, now awaiting your reservation.
Owned by a movie location scout turned hydroponics enthusiast, Miami River Wall is a private space with two monstrous vertical gardens (foliage on the walls), super-high ceilings, a full kitchen and a communal table fashioned out of Dade County pine.
Which means the next time you've got an exciting announcement (you're getting engaged; you're rescuing a bulldog) or a valid reason to celebrate (Dolphins season: four months away), you'll want to rent out this space, hire a chef and invite 12 to 50 of your closest friends.
As you all sip wine and discuss the latest trends in indoor gardening (conversation starter: "These are the first hydroponic plant walls in Miami..."), your chef will rustle up dinner, using herbs like oregano, rosemary and mint plucked right off the plant wall in the kitchen.
Everyone loves a good wall-to-table meal.