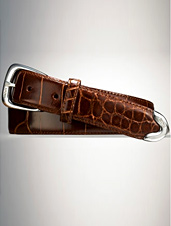 We had a thought recently, and you may have had this thought too: we need a new belt.
A good one. A handsome one. One with rhinestones. Okay, no rhinestones. But good and handsome. And perfectly suited to our exact svelteness.
Which is why we were pleased to hear about the new
Custom Belts from Alan Rouleau
, now available.
Essentially, these are the belts you would wear if you were a billionaire, only now you can wear them even if you're not a billionaire (yet).
To get the personalized strap-making process going, you'll start by heading to Rouleau's shop on Newbury, where he'll measure your girth to the nearest half-inch (your waist girth, that is) and listen to your preferences on skin type (alligator or French calf leather), color (oak, cognac, pure black) and stitching thread color.
You'll also be able to choose which of six silver-plated brass buckles you'll want anchoring your leather stunner (they've got several different shapes and sizes, although, unfortunately, nothing in the shape of Massachusetts).
When you've designed the perfect pants-holder, Rouleau will relay your picks to his craftsmen in Italy, who will construct your belt by hand and ship it to you in about three weeks. They'll even brand your initials on the back of it before sending it out.
Nothing is more badass than a monogrammed belt.