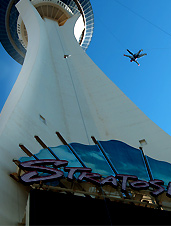 Vegas is full of risks.
There's the zero on the roulette wheel, the cocktail waitress with a suspiciously strong scotch and soda, the occasional escaped Siberian tiger...
But short of double-crossing the wrong bookie, your odds of plummeting off a 1,150-foot building are usually pretty small.
So when you get the chance, you'd better take it.
Introducing
Skyjump
, a vertical zip line from the 108th floor of the Stratosphere, taking jumps now.
It's the same kind of daredevil leap usually tackled by a guy who looks like Bruce Willis, but now it's you, plummeting from the top of the tallest building in Vegas—the biggest drop of its kind in the world. (And the reason to go to the Stratosphere you didn't know you wanted.)
First, head to the base of the tower and find the guys in jumpsuits—the ones who aren't Elvis impersonators. They'll take you to the top and strap you into an arm-and-leg harness. And then, all you have to do is jump. Just remember: the tower can smell fear.
Then you're in for the most intense 15 seconds of your life, with a casino's worth of bars just a few hundred feet away once you land.
By now, you should be feeling lucky.