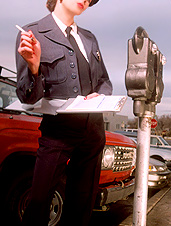 Ah, the sounds of April in Chicago: a crack of the bat at Wrigley. The soft crash of the lake waves. The whir of a Department of Streets and Sanitation sweeper barreling down on you.
Here to make sure you're well out of its way:
StopParkingTickets.com
, a new service that's the next best thing to a radar detector for street sweepers.
Think of it as the last line of defense between you and a $50 parking ticket. For a small fee, you'll receive a gentle electronic tap on the shoulder when you've somehow managed to forget that arcane street sweeper's schedule of semi-regular trips down your street.
You'll start by typing in your email, cell phone and where you normally park. Then, a team of savvy cartographers—all with advanced degrees in Chicago ward maps—will carefully plot the information in their sophisticated database (i.e., a stack of maps, and info from the alderman's office) to make sure you're alerted the night before it's time to remove your car from the street. So you'll feel reassured, even if the city's foolproof system of tying a no-parking placard to a tree somehow falls victim to the wind, vandals or squirrels.
Because you know those squirrels have it in for you.