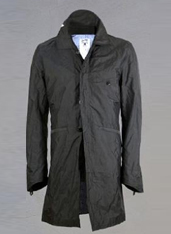 Yesterday, a brief heat wave.
Tomorrow, showers.
The rainy season is dragging.
But before you sink into a gray-sky malaise, we've found some guys out of Amsterdam who took their own impatience for better weather and channeled it into gear that's meant to inspire a quick getaway somewhere tropical.
And you can see the clouds parting already...
Introducing
Denham the Jeanmaker
, your new purveyor of escapist gear, resortwear and clothes for gentlemen spies, now available for the first time in the US exclusively at Revolver.
Made by clothes historians with an extensive "garment library" of items that have stood the test of time, this is the kind of gear solidly tailored to last even during high-stakes, top-secret maneuvers. Meaning, they'll easily move from your upcoming jaunt to Casablanca to next month's bocce tournament in Napa to just catching a movie at the Kabuki.
There's all kinds of rough yet refined pieces—
Taper Trouser Fit Khakis
,
Grain Railway Ticking Shirt
,
Fleming Field Coat
—that are crisp but slightly worn-in (of the sort you'd expect an off-duty colonel to wear at the officers' club).
And of course there are always the jeans, like the
Grade Dry Denim
based on rugged, old-school jeans from the '40s. A little less
Lawrence of Arabia
and slightly more John Wayne.
For when you come back.