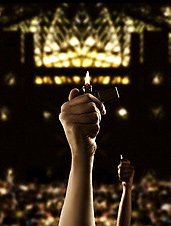 We're on the eve of a life-altering musical event, due to take place just outside our city, with epic bands performing under the sizzling sun.
But this isn't about Coachella. This is about a new single-day outdoor extravaganza filled with endless beer and the greatest rock bands of the last century.
Or their remarkably similar tribute bands. Welcome... to
Tributefest
, happening May 1 with tickets on sale now.
Before today, you might've assumed you'd never get the chance to see U2, Tom Petty, The Who and Aerosmith on stage in a single, magical day. And... you'd be right. But Tributefest is here to bring you Joshua Tree, Petty Cash, The Who Show and Aeromyth. To which you say: close enough.
Regular tickets are $40, but the $60 VIP tickets include all the beer you can drink—and there'll be about 30 craft beers up for grabs. (We hear some food trucks will also be making the drive.)
It all goes down in Central Park—but again, maybe not the Central Park you're thinking of. We're talking about the one in Santa Clarita (it's a little smaller).
But the guitars... the guitars are real.