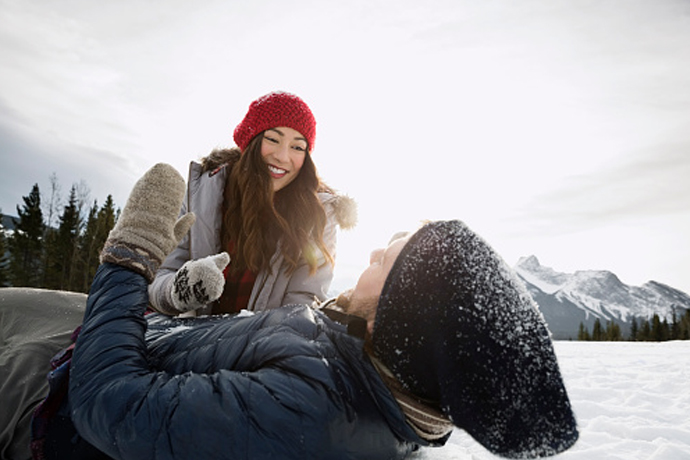 It's mid-January.
And it makes perfect sense that you'd want to claim the full benefits of winter right now by curling up by a fire with somebody you like.
These feelings are natural.
But since it's in the 60's, we're going to go ahead and send you and your date to Mammoth. And we're going to do so with this short itinerary full of wintertime splendor to help the two of you escape to the mountains of Mono County for a night.
Think cold thoughts...
The Transport
You'll book a semi-private jet direct from Burbank to Mammoth. You'll park, get on the plane, stretch out with a drink and find yourself there in 70 minutes. No security lines, no snow tires. JetSuiteX, $219-$249/ticket
The Chalet
Yes, a mountainside townhouse with killer panoramic views is completely necessary for this trip. As are the grill, hot tub, outdoor deck, two fireplaces and gourmet kitchen. Does it have to sleep 10? We never asked. Excuse our indiscretion. Luxury Home Altis, $1,200
The Bonding Adrenaline Activity
Starting last Friday, certified guides began offering introductory backcountry skiing lessons and tours of Mammoth Mountain's lesser-seen side country. You should probably get in on that. Back Country/Side Country Tours, $179
The Meal Atop the Mountain
Grilled cheese with soup and drinks right after you jump off the chairlift? Who would have thought such a thing could see demand. Only Melt House & Boundary Bar, apparently. Now open, Melt House & Boundary Bar
The Reheat
Mammoth locals keep their favorite hot springs close to the chest. This romantic retreat for soaking the pain away was long known as Crowley Hot Spring. Now, it's called Wild Willy's. Between us, you can still call it Crowley. Wild Willy's Hot Springs, no cover
The Après Spot
Apple brandy and gin. Coffee cream ale and blackberry cider. Poke tostadas with Whiskey Rose cocktails. Shelter Distilling just opened to show you all the wonderful things it's been working on. Don't make them drink all this stuff themselves. Now open, Shelter Distilling
The Evening Pursuit
Clocktower Cellar is just like the kind of dive you remember from every '80s ski movie, only with the best whiskey list in town. Double-bonus. Now open, Clocktower Cellar