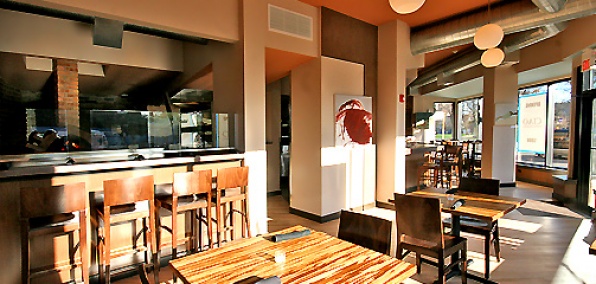 You may think Logan Square is hotter than ever.

But a 900-degree secret has been slowly smoldering. And come 4pm today, that secret will no longer be contained.

Prepare for Ciao Napoli Pizzeria, the latest fusillade in this town's quest to out-pizza Naples when it comes to authentic pizza pie.

The belly of this beast is its unrelenting furnace, lovingly built brick-by-brick by Ciao's brash fourth-generation Naples-born pizzaiolo. It's able to turn out the perfect pie in a mere 80 seconds, the scientifically proven optimal time to wait for your pesto-and-shrimp pizza.

The decor is all earth tones and exposed bricks and big windows. The best seat is in the front bar, where you can coolly work your way up to the pies via an antipasti like Sushi Parma (a mozzarella/prosciutto roll-up), handmade gnocchi and—debuting next week—cocktails like an Amici (gin, Aperol, mint liqueur) or a Luna Rosa (bourbon, port and grenadine, topped with champagne).

When it comes to the main event, you'll find everything you've come to demand from these designer pizza joints, like fresh buffalo mozzarella on your Margherita. Then there are boundary-pushers like the Pizza 6 Formaggi, a six-cheese brute recklessly testing the upper limits of the whole dough-cheese dyad. For dessert, indulge your taste for Nutella-drizzled Italian doughnuts.

Which you probably didn't even know you had.