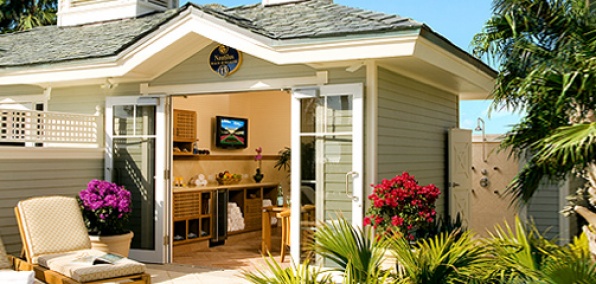 You've got nothing against the typical hotel room.

You like the fluffy pillows, the little desk, the minibar.

But sometimes you wish you could move all that comfort outdoors... by the beach... near a few well-fitting swimsuits.

Introducing Beach Bungalows at The Breakers, possibly the greatest advancement in poolside frolicking since the inflatable lounge chair, available now in Palm Beach.

Basically, the new bungalows—situated steps away from The Breakers' relaxation HQ (three pools, two hot tubs, several hammocks)—are like normal poolside cabanas, if they were designed by Bruce Wayne. Think Wi-Fi, couch, flat-screen, wet bar, mini-fridge, full bathroom and an open-sky shower. (Note to co-ed volleyball teams looking to save water: the shower fits eight comfortably...)

Which means you'll pad down here from your hotel room in the late morning, wile away a few hours in and around the Relaxation Pool (aka, the adults-only pool), chug a couple Russian energy drinks in a steaming hot tub, summon up lunch or a frosty beverage via your bungalow concierge (we're assuming he'll be wearing a tuxedo jacket and a Speedo)—and best of all, you'll never have to retreat to your hotel room to shower, watch the game or send a few business emails.

And by business emails we mean non-business texts.