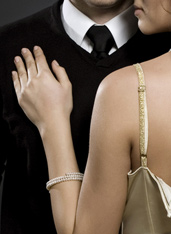 You're not one for rules.
But when it comes to fashion, certain notions hold true.
Like always taking style advice from one of the founders of YouTube.
Okay, we made that up, but he did just launch a pretty sharp line of gear...
Introducing the new menswear line from bag-maker
Hlaska
, available now at their Fillmore Street store for a quick update on some basics.
You may be familiar with Hlaska as the industrial bag/wallet guys (one of whom used to be a YouTube guy), and now they're turning their attention to a few staples that you can always use: the collection is made up of pretty simple, down-the-middle threads—blazers, shirts, jeans and sweaters—that you'll find slip right into your closet and settle in like you've owned them since before you knew what YouTube was.
And since the guys making the stuff have a background in industrial design, all the button-downs, jeans and pants are made with clean lines and adorned with almost nothing, except for a few little details like a credit card pocket on the blazer for quick access when you're out marauding.
Easy access while marauding is essential.