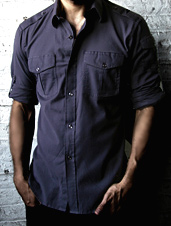 You've been known to roll up your sleeves and get things done. Of course, you've also been known to do that before taking a really good nap.
Either way, you need to make sure you have one key ingredient: sleeves.
That's why we'd like to introduce you to
Nonnie Threads
, a Chicago shirtmaker that's probably the best news your forearms will get all day. (Though we're not ruling out any late-afternoon arm-wrestling championships or sudden urges for a leprechaun tattoo.)
Designed in Humboldt Park, hand-sewn in Bridgeport and available for a limited time at the Chicago Fashion Incubator pop-up shop, Nonnie shirts come ready for life in the city of big shoulders—light and breathable, perfect for these fleeting not-quite-spring days.
Also practical: the buttons on the sleeves, which are designed to secure your rolled-up cuffs when you decide it's time to do some heavy lifting... You'd hate to accidently dip your new shirt in green beer.
And while these aren't what you'd wear to, say, any discreet lunchtime job interviews you might have lined up, you'd be happy to wear one on a casual Friday, because they're happy hour-ready—meaning, of course, feel free to wear one on any given Monday.
Or Tuesday through Thursday.