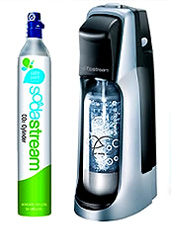 Your home bar has some fantastic pieces.
Rum smuggled in from the islands. Tequila bootlegged straight from Mexico. Homemade moonshine from that guy you met in the clink that time (it was a great bachelor party).
But just like a chain is only as strong as its weakest link, or a basketball team is only as good as its weakest player (we're looking at you, Scalabrine), your self-made cocktails need strength at every position...
Say hello to the
Fountain Jet
, a home soda-making marvel that signals the end of your store-bought, humdrum, plain-Jane soda days, now available at the Boston Shaker.
In short, this is the final step in your quest to build the ultimate home watering hole. Setup is easy—it comes with two reusable 1-liter bottles that you fill with water, hook up to the machine and add some CO
2
to with the press of a button.
So next thing you know, you're pouring fresh craft soda into that authentic Russian vodka you picked up on your last business trip to Vladivostok (and trust us, your female friend from St. Petersburg will notice... even if she is from the one in Florida).
You'll also be happy to hear that the Shaker carries flavored syrups like ginger, strawberry, lemon and cherry (courtesy of a farm in Pennsylvania that uses fresh fruit), allowing you to create a variety of flavored sodas.
Your move, Pepsi.