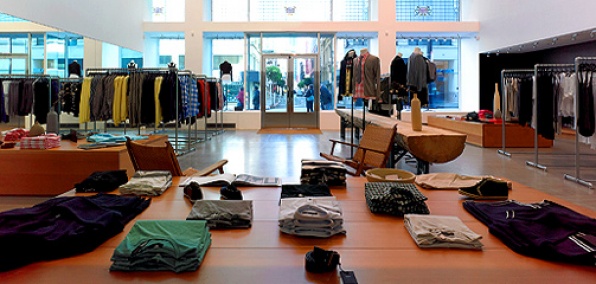 Starting this week, if all goes according to plan, you're going to walk out of the office and be reminded that you've got another glorious hour of sunshine to spare.

Which means you'll want to be strategically outfitted to float from the workday through happy hour to wherever the night goes from there.

Especially if that happens to include Stockholm.

Welcome to Bastille, a new store stocking cult American labels alongside minimalist Swedish togs, open now in Union Square.

First, some background: this is the brother store to an outpost in Salt Lake City, still the fashion capital of Utah. But you'd never know it from the shop, which feels starkly Scandinavian in a clean-lined, white-walled, borderline OCD sort of way. (Throw in a few leggy blondes, and you're set.)

You'll want to stop in when you're looking for something to merge your understated, preppy Americana side with a bit of edgy Swedishness—like Paul Newman crossed with Björn Borg. Toward that end, you'll find button-up shirts from Acne, windbreakers and cardigans from Filippa K, and slim oxfords and skinny ties from Band of Outsiders—all ideal for happy hour on Americano's patio or Bloody Marys on the deck at Sam's.

Or, as we like to think of them, the ultimate Stockholm-LA-Salt Lake City trifecta.