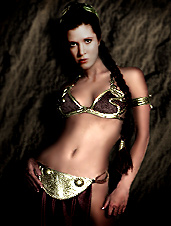 Star Wars
—it was the perfect movie for our generation.
It was full of excitement, it was full of majesty, and it was...really lacking some edgy intergalactic burlesque.
Well, all that is about to change. Here to reconfigure your most precious cinematic memories is an unholy matrimony of stripping and C-3PO known as
Star Warz Burlesque
, landing in the strange universe of Hollywood this Friday night. (May the Force be with you.)
Basically, you should picture what might happen if that formidable row of stormtroopers stopped with all the laser guns for a minute, heard snatches of a seductive house beat and began the delicate process of removing those complicated uniforms...only to reveal bodies that are quite a bit more buxom than you've ever imagined.
We can't tell you much about the top-secret scenes, though we can't help but picture an awe-inspiring mélange of gold bikinis, ribald robots and blushing Wookiees.
The show is the super-size new installment of the Devil's Playground—a roving underground burlesque extravaganza headed up by Courtney Cruz, who's like Dita Von Teese with a lot more ink.
Don't worry, she's a credible authority on Jedi knights.