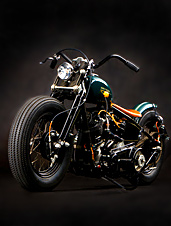 We're not in the business of big proclamations, but we'll say it: our long national nightmare—otherwise known as winter 2010—is over.
And so, with spring temperatures as far as the eye can see, it's time to get back out there and conquer the world. Or at least West Virginia.
Step one: finding a ride befitting your new sense of sun-drenched freedom.
Which brings us to
EagleRider Motorcycle Rental
, opening for the season next week in Chantilly, Virginia, to deliver you the biggest dose of freedom you've seen since that Fourth of July you spent at Springsteen's house.
This is the place to go when you absolutely, positively need to ditch the conference calls, laptops and Twitter feeds, and hop on a Harley immediately. If you've been thinking of growing a beard, try the legendary heavyweight Harley-Davidson Fat Boy. But if you're just looking to get away really, really fast (the Senate has finally discovered you're not actually a "registered" lobbyist), try the BMW racing bike. And once you head out to Chantilly to saddle up your iron steed, it's on to a day on the Eastern Shore or Skyline Drive.
Of course, your plans might be—dare we say,
should
be—a bit more ambitious. So should you want to grab an outlaw buddy and make your way across the country, Fonda-and-Hopper-style, you'll be happy to know you can drop off your bike at any of their partner bike shops across the country.
Just get your Captain America leathers back from the dry cleaner first.