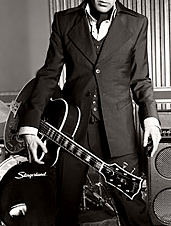 You're something of a rock god.
Maybe not in the literal sense (your karaoke skills notwithstanding), but more in the sense of your debaucherous lifestyle and eye for edgy fashion.
So we're pleased to introduce NYC's
Craig Robinson,
personal tailor to a host of rock stars (more Interpol than INXS), now making his ready-to-wear line of shirts, jackets and suits available for you in Boston exclusively at Stel's in the Back Bay.
Think of C.R. as what John Varvatos would be if he were the line of choice for rebellious rock stars still tearing apart sweaty clubs on the Lower East Side, rather than at Madison Square Garden (we're looking at you, Joe Perry).
Meaning, you can now land the threads more befitting your hard-earned rep lo these many late nights and early mornings. The clothes are top quality—fine cotton pique fabrics, Edwardian-cut collars, all tailored in the Old World tradition of hand-stitched construction (built to stand up against your pawing groupies).
At present you can get your hands on the selection of button-downs and fine cotton jackets in stock, but keep an eye peeled to the coming weeks, when they will start getting in C.R.'s
handmade suits
, key for stylishly rocking those Monday morning presentations.
Or when you want to look as good as you sound on
Guitar Hero.