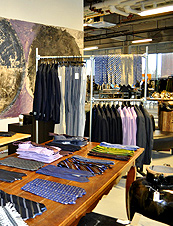 When not engaging in antics perpetuating your rakish reputation, you're actually quite thoughtful.
The kind of person who, upon hearing an old friend has moved into temporary digs while their insane new house is still under construction, will drop by and say hello (and in a best-case scenario, land some new threads while you're there).
Which is exactly what you can do when you swing by the
Louis Boston Temporary Store,
their smaller, hipper new waterfront loft space, now open.
Instead of the three-level mecca from their previous life, the temp home is not as massive but still rather giant, with floor-to-ceiling windows overlooking the water. If you come by in the next couple of weeks, you'll probably find exclusives to the new shop like über-casual wear from Burkman Brothers (think shorts, boating stuff), suits from Danish-based Sand (because everyone needs a little more Denmark in their life) and trousers from J.W. Brine, available in both plaid and nonplaid (we recommend the former if you're looking to grab a little extra attention at your next party...or if you plan to be hanging out with the Socs from
The Outsiders
).
And keep your eye on the construction about 100 feet away on Fan Pier, as the new and improved Louis will tout a restaurant with sweeping views of the harbor and a second-floor exposed patio, perfect for several drinks after a future visit.
Alcohol: still the best reason to stop by a friend's house.