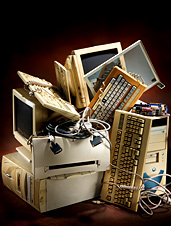 You and this crazy Internet have had a pretty good run.
You've posted some insightful tweets. Made lifelong friends on LinkedIn. And your Facebook profile pics...let's just say they're making room at the Guggenheim.
But lately, it's all begun to feel so time-consuming. Boring. Empty. And so the time to take a virtual cocktail of digital sleeping pills and red wine has come.
Welcome to
WebSuicide 2.0
, a new site that helps you systematically commit hara-kiri on the albatross that is your online persona, one social networking site at a time.
Basically, it's like Jack Kevorkian for your Web 2.0 identity. You'll hand over your sign-in info for one of four evil social networking sites—Facebook, LinkedIn, Twitter or MySpace—and click on the ominous "commit" button.
Be warned: once you commit, you can't go back. But what happens next is morbidly spectacular. You sit back, and the site, essentially, kills you. It changes your password, deletes your profile pictures (replacing them with a noose), removes your tweets/updates/pokes and leaves a message saying that you've checked out for good. If you're on Facebook, you'll find your old self enrolled in the "Social Network Suiciders" group. (Which has the same core group of members as the "Fans of the Cure" group.)
As you might expect, such antiestablishment projects don't come without detractors (The Man)—Facebook has sent the site a cease-and-desist letter, but you can still off yourself on the site, for now.
Or you could just delete your profile.