Have you heard?
A $100 million venture-backed company, called Luminary, is trying to be the Netflix of podcasts. Its app-based platform launched Tuesday, with both a free and $7.99/month premium version—the former of which features (almost) all of the podcasts you can find elsewhere, and the latter of which promises over 40 exclusive and ad-free podcasts.
Now, if you're thinking, "Do I really need that?" you're probably in the majority of people reading this. But you've also come to the right article. As a frequent podcast listener, but deep skeptic with regards to new and ostensibly redundant technologies, I downloaded the app—there's a one month free trial for Premium—and took a look around. Then I posed myself a series of questions about what I found, and answered them for your immediate edification.
How does the app's interface differ from, say, Apple Podcasts?
It's more or less the same but also better? I've always found the Apple Podcast interface needlessly complicated, in the "Browse" section but particularly in the "Library," where it's more difficult than it should be to find the newest episodes of a show you're not subscribed to. On Luminary, your library, so to speak, is sanctioned into Shows, Bookmarks and Downloads, so it's a little easier to find and save new episodes, and catch up on old ones you may've downloaded (and subsequently forgotten about).
I've always appreciated Apple's recommendations—their staff picks, both on the Podcast app and on Apple Music, are far more considered and editorialized—far more human-seeming—than some of its competitors. The homepage on Luminary appears to be equally, if similarly, effective. As with Apple, there's a carousel showing a rotating cast of Luminary's featured picks, as well as top charts for particular topic areas, which are, according to The Verge, reliant mostly on external data for the time being. But there's also a "Timely Talk" section, where users can find of-the-moment podcasts, like, say, an interview with renowned polyglot Pete Buttigieg, and an "In the Headlines" section, featuring shows like NPR's Up First, which seems to act like the podcast equivalent of a news aggregator.
Then again, everyone's homepage will look different.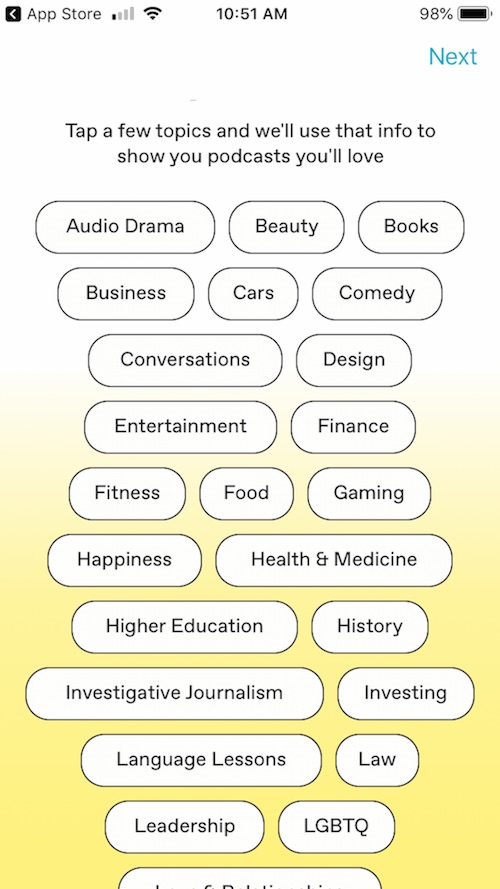 What do you mean?
Well, when you sign up for and log in to the app for the first time, you'll be invited to tap a few topic bubbles—ranging from Audio Drama, to Law, to Happiness—which they'll use to personalize your homepage and populate it with shows you might enjoy. I selected Entertainment, Pop Culture, Food, Travel and Conversations—and to be fair, some of the shows that popped up, like Wesley Morris and Jenna Wortham's Still Processing, I'd actually been a longtime listener of.

Once you start downloading and listening to shows, they'll take into account aspects other podcast apps don't when it comes to recommending you new stuff. Joe Purzyck, co-founder and chief strategy officer, told The Verge that they transcribe podcasts automatically and look for "audio similarity"—in essence, the tone, the speed at which hosts speak and the subject matter. Said Purzyck: "The team then tries to figure out what one show offers, what the hosts bring to a show, and how that might relate to other programming."
They'll also use this and other data, such as listening time and user ratings, to help them determine which shows to greenlight and potential creators to go after.
Okay, right. So what shows have been greenlit?
Similar to the way Netflix both acquires and produces content, Luminary has cemented exclusive licensing deals with existing podcasters and funded a slate of original shows with creative partners. There are over 40 thus far, though some are not available quite yet. Highlights include: Trevor Noah's On Second Thought, during which he and his guests look at the news from "unfamiliar angles"; Tabloid, a new longform podcast from New York Magazine, each season of which will reexamine major tabloid stories from the past; Fiasco, a similarly longform podcast from the man behind the hit podcast, Slow Burn, which, in broad terms, "will be about the past — why the history we half-remember played out the way it did, and what marks it left on the world we live in"; an insightful female-focused offering from Lena Dunham; a series of profiles on oft-strange economic success stories from former Planet Money host and prominent New Yorker writer, Adam Davidson; and Anthem: Homunculus, a first-of-its-kind podcast musical created by John Cameron Mitchell (of Hedwig and the Angry Itch fame), co-starring the likes of Glenn Close and Patti LuPone.
You'll also only be able to get previously free shows like The Axe Files with David Axelrod, Under the Skin with Russell Brand and The Trip (from the Bourdain-backed travel publication, Roads & Kingdoms) with a Premium subscription.
Holy hell. They really went after some big name podcasting talent, didn't they?
Mmhmm, yup. More than the app itself and the personalization features, Luminary seems to be banking on the fact that enough people are willing to cough up eight bucks a month to listen to Glenn Close perform in a musical while they're on the train or wherever, sans ads.
To be clear, the free, non-Original shows will still have ads, yes?
You are correct.
But do people really care about listening to a podcast without ads, anyway?
Well, no. The ad-free function of the Original shows seems to be more of an added bonus than a real incentive for any prospective customer, because it's not like anyone actually listens to podcast ads.
Is it possible to get an idea of what these new shows sound like?
Yessir. The homepage on the app has a handy-dandy section for previews of these Originals, which are basically like Instagram stories for...sound.
Did you just say "handy-dandy"?
I believe I did, yes.
Final question. And this is a biggie. Are there any prominent shows you can't find on the app?
And therein lies a rub. Not the rub, perhaps. But a rub. Currently, there are some holdouts. The Daily, Michael Barbaro's ubiquitous news podcast for The New York Times, is not available—though the Times, in a statement to The Verge has suggested it will be in the future. They also haven't been able to work out a deal with Spotify to distribute the network of podcasts it obtained from recent acquisitions, like Anchor, Parcast and Gimlet Media, best known for its shows, Reply All and Homecoming (which was recently adapted into an Amazon series). Given the fact that Spotify has its own podcast feature, it's reasonable to assume they're wary of lending their shows to a competitor.
Final final question: Should I pay for Luminary?
If you're a serious podcast listener—i.e., you have a long daily commute—and you're interested in at least a handful of its Originals, the price tag might make it worth your while. But otherwise, it just doesn't seem worth the time to change over from Apple Podcasts or Stitcher or Spotify, or just plain old you-listening-to-Maggie-Rogers-and-crying-on-the-subway.
Sorry if that was unduly specific.